"Only on condition of a radical widening of definitions will it be possible for..."
"The time has come for global action to build a new world economic system that is..."
– http://www.thesolutionsjournal.com/node/1221
Spotted on car bumper
3 stickers:  Fuck Terrorism. Desert Storm Veteran. Mystery Spot. 
3 tags
Measuring Social Impact: A series of posts from... →
"Each PopTech Edition explores an emerging theme at the edge of change from the perspective of some of the remarkable innovators shaping it. Here, we examine evolving techniques to accurately gauge the real impact of initiatives and programs designed to do social good."
Easter Island reconsidered (Hunt and Lipo talk)
In the most isolated place on Earth a tiny society built world-class monuments.  Easter Island (Rapa Nui) is 1,000 miles from the nearest Pacific island, 3,000 miles from the nearest continent.  It is just six by ten miles in size, with no running streams, terrible soil, occasional droughts, and a relatively barren ocean.  Yet there are 900 of the famous statues (moai), weighing up to 75 tons and...
Triple Pundit talks Compostmodern13
Eda Goksel's post on being involved with Compostmodern. Go Eda!  http://www.triplepundit.com/2013/01/survive-thrive/
Martin Montero: Essential tools to start a social... →
A compilation of the best resources to help you get your social enterprise planed, designed, launched and creating a sustainable impact. Over the past few months a conversation has been evoling in the social entrepreneurship scene around the topic of super heros and how we can…
The Synthesizing Mind
The people I have come to call "Evolutionaries" are generalists for this very reason. Their critical insights are a result of thinking as a generalist must think—with a passionate but broad curiosity that fans out across culture and sees connections, patterns, transitions, and trends where others only see discrete facts and details. An Evolutionary must be able to look at the movements of nature,...
"The white man that landed here, he came with two great weapons. The Bible and..."
– Lewis Michaud, of the Lewis Michaud Library, Harlem, New York.
Social Design Talks at the Young Foundation:...
We can only understand the future as a possibility. But it is one that implicates designers deeply. are the makers, strategists, visualizers, dream weavers and communicators whose work is essential to envisioning the material and immaterial forms of a more humane world.   – Mariana Amatullo Hear more from Mariana, Co-Founder and VP of Designmatters at Art Center College of Design at this...
1 tag
"One hundred years from now, the role of science and technology will be about..."
– http://100.steelcase.com/mind/joi-ito/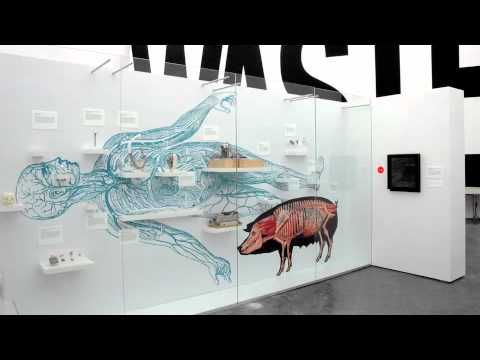 Brenda Brathwaite: Gaming for understanding |...
See on Scoop.it - Design for Social Innovation For decades, Brenda Brathwaite has been a major figure in the field of game design. Famous for her work on the role-playing series Wizardry, she's also known for her work on Def Jam: Icon, Playboy: The Mansion, and Dungeons & Dragons: Heroes. It's never easy to get across the magnitude of complex tragedies — so when Brenda...
Rules of Thumb
I met Alan Webber last week and liked him immediately. We were attending a small conference at Cal., and worked together on a brainstorming exercise to explore how to make a  city more like a platform. It was a great conversation. We hopped the same bart train home and had an equally interesting conversation about economic development. He was clearly someone with lots of experience and wisdom and...
Maisie Andrews, Founder and Chair, Goodies in...
See on Scoop.it - Design for Social Innovation Goodies in Hoodies is a youth action group that creates activities and opportunities for young people through a volunteering reward scheme, reducing relationship barriers and aiming to diminish anti-social behaviour. At the age of 16, Maisey conceived and founded the youth project Goodies in Hoodies to dispel the negativity associated with teenagers...
Buckminster Fuller and the Geodesic Dome
Via Scoop.it - Design for Social Innovation Dedicating his life to making the world work for all of humanity, Buckminster Fuller's practice can't be catagorized into one field but instead worked to solve global problems surrounding housing, shelter, transportation, education, energy, ecological destruction, and poverty. By the 1960s, Fuller had found a mass following because of his radical...
5 tags
Keep an eye on this: Public and Collaborative NYC
testingpubcollab: Our Initiative Public and Collaborative NYC is a program of activities, developed by Parsons DESIS Lab and the Public Policy Lab, to explore how public services in New York City can be improved by incorporating greater citizen collaboration in service design and implementation. Public & Collaborative NYC is grounded on the assumption that citizens, especially as they...
Knight News Challenge: Participatory Design for a... →
newschallenge: 1. What do you propose to do? [20 words] Use participatory design to reinvent Shareable, an information hub about sharing and the sharing economy. Shareable 2.0 will be more transparent, participatory, and continuously co-created by its community. 2. Is anyone doing something like this now…
mycelial network
Thought for the day from David McConville after a long conversation about what we're up to: A mycelial network. Increasing coherence that's open and transparent. Self-consciously trying to figure out what's working.  And while we're talking about mycelium…Paul Stamets' TED talk on 6 ways mushrooms can save the world: http://bit.ly/A66ElN
Comprehensive, anticipatory design science
Comprehensive, anticipatory design science is "the effective application of the principles of science to the conscious design of our total environment in order to help make the Earth's finite resources meet the needs of all of humanity without disrupting the ecological processes of the planet." the goal of which is to "Make the world work for 100% of humanity in the shortest possible time,...
Creativity Comes From Blending Dissonant Goals...
Via Scoop.it - Design for Social Innovation At someplace such as Frog, a highly collaborative, cross-disciplinary, and multicultural environment is simply a requirement, because of the complexity of the problems we face. In that context, every team member needs a strong individual point of view fueled and sustained by personal passions and deep vertical knowledge. The point is to create...
Our Economy Is Mostly Services. But How Do You...
Via Scoop.it - Design for Social Innovation "Every time you ship a package, withdraw cash from the ATM, or call your health insurance provider, you're experiencing a service system. We're a service-focused economy: In 2010, Americans spent more than $7 trillion on services—amounting to 67% of total consumer spending. Service design—choreographing the dynamic interactions between...
Business, Design and Love | Ability Success Growth
Via Scoop.it - Design for Social Innovation Via abilitysuccessgrowth.com
Context Based Sustainability
Via Scoop.it - Future of Sustainability page description goes here.should support main keyword… Via sustainableorganizations.org
Lopa Brunjes - Biochar Pioneer and Sustainability...
Via Scoop.it - Design for Social Innovation Have you heard of BIOCHAR? (It's essentially a porous charcoal, known to slow climate change by sequestering, or trapping, carbon that would otherwise have seeped into the atmosphere. It apparently also improves the fertility of the soil and the quality of ground water, leading to more productive agriculture. Lopa serves on the advisory board of...
Popuphood: How To Revitalize A Struggling...
Via Scoop.it - Design for Social Innovation Many cities in America are facing the slow decline of their main streets and shopping areas. But a new program in Oakland might be the key to reviving vibrant, local commercial centers. Via fastcoexist.com
SFMOMA To Host Bucky Fuller Exhibit
Via Scoop.it - Future of Sustainability The San Francisco Museum of Modern Art (SFMOMA) has announced the upcoming debut of a new exhibition on the work of engineer, architect, and all-around design polymath Buckminster Fuller. Set to open March 31, "The Utopian Impulse: Buckminster Fuller and the Bay Area" will feature various highlights from Bucky's nearly eight-decade career, including such...
AIGA | An ethnography primer
Via Scoop.it - Design for Social Innovation AIGA and Cheskin have produced a primer introducing the crucial role that ethnography plays in designing. Via aiga.org
AIGA | Design for Change: An Inside Job?
Via Scoop.it - Design for Social Innovation In-house designers should not have to get out to do good. They have the skills to make a difference right where they are. Via aiga.org
Building Adaptive Capacity: Towards a Design for...
Via Scoop.it - Future of Sustainability From last March, 2011, but worth a read. From Core 77. Via core77.com
PopTech : Iceland 2012
Via Scoop.it - Future of Sustainability Who's planning on going to PopTech in Reykjavik this spring? #resilience #poptech Via poptech.org
Pinterest: There's Something Here For Everyone -...
Via Scoop.it - Design for Social Innovation This is another compelling story about Pinterest - the video says it all. It's a deaf woman's story about how she's using visuals to communicate her story. There's something for everyone on this network and this is just the beginning.   Intro:   I'm discovering new ways to use social media to show I can integrate and make...
"The physical survival of the human race depends on a radical change in the human..."
Exit 2011. Enter 2012.
Like most people I know, I tend to get caught up in the day-to-day juggling act and lose sight of my accomplishments and forward motion. So I have been taking time during this first week of the year to reflect on the events of 2011 that were significant for me, and set intentions for 2012. And so, 2011… January – On January 2, 2011 I joined Hot Studio as the Director of Social Innovation, to...
3 tags
"I have been asked many times if the practical solutions to poverty outlined in..."
"on designers: "we've been brought up to think that we're in..."
Nice going Nobel committee
Congratulations to the three women who share the Nobel Peace Prize, Liberian President Ellen Johnson Sirleaf, Liberian Leymah Gbowee and Tawakul Karman of Yemen.  "We cannot achieve democracy and lasting peace in the world unless women achieve the same opportunities as men to influence developments at all levels of society,". Amen. 
Designcraft: Handful of Salt
Regina Connell just solved my lifelong conundrum of how to gracefully explain a self-identity that bridges the worlds of art and design, with one word and a kick ass blog to explore it. Her term: Designcraft. The blog: Handful of Salt. Maker-designers, designcrafters, rejoice. She gets it. 
1 tag
SOCAP season
It's SOCAP season again. Just four weeks away, I'm eagerly anticipating seeing many old friends, and looking forward to meeting new people who I know will blow my mind with their overflowingly creative ideas, warm my heart with their relatedness and connectedness to what is life-enhancing. They'll help me focus my thoughts and energies, and co-conspire to galvanize projects.  ...
A smoking example of design for social innovation →
"Designing a win by undesigning it…"
"A gestalt is a completed unit of human experience. It is a unique aesthetic..."
– Fritz Perls, founder of Gestalt therapy.
6 tags
Conversations worth having
Today was a milestone. My first article for Shareable.net was published and I'm super excited about it. For a long time, I've been wanting to write about designers who use their skills and ingenuity to address complex social issues. And now I'm doing it. The process is joyful. I get to have conversations with people I admire and learn from. We also share a passion. Bonus points....
1 tag
Designing the circumstance in which things are...
Today I stumbled upon Chappell Ellison's post in Good "Can Designers Save the World Without Creating More Stuff?" She describes Ralph Caplan's notion of situation design. In his book, By Design: Why There Are No Locks on the Bathroom Doors in the Hotel Louis XIV and Other Object Lessons, Ralph Caplan advises us not to underestimate the power of situation design, or "the...